'…No Prizes For Getting There First'
Have you ever been on the London Underground?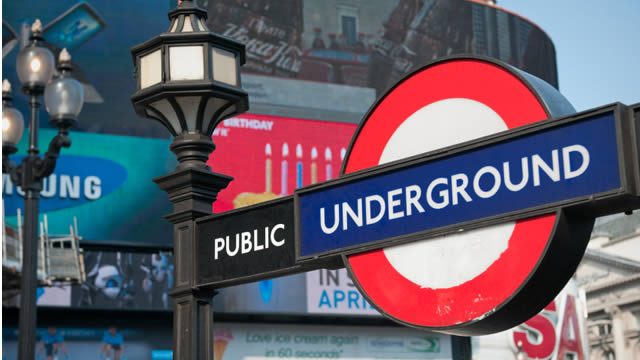 No doubt those of you who live in London have and I used to when I lived there.
But even though I know what it's like, even though I grew up there and therefore you'd think I was used to it, I am still amazed when I go back. Amazed by the rushing.
Everyone, whatever the time, is always rushing.
You go into the station and everyone's rushing past you on the stairs to get to the platform, even though some of the trains run regularly so if they miss one there'll be another coming along soon. And when you step off the train and leave the station everyone is still rushing. Rushing past you as they head in a rush to the ticket barrier as if it were some kind of race and there's an invisible finishing line they're all desperate to get to.
As everyone rushes past – and we're not exactly dawdling yet we're still being rushed past – and leaves us behind it does make us feel exactly like that; exactly as if we're being left behind, despite the fact we usually meet them all again seconds later standing waiting on the platform.
But with everyone rushing past I start to get anxious. I start to feel like I ought to be rushing too, in case we're missing out on something. What that something might be I have no idea but I definitely feel there must be something I'm missing otherwise why is everybody rushing? Why is everybody surging forward at a stressful pace? What's the point in legging it down the tunnels only to stand waiting because the train's not here yet, fiddling with phones that have no signal?
And do you know what?  It's catching. It's compulsive. Before I know what I'm doing, I'm rushing along too. It's downright unnerving, as infectious as it's stressful. And I really have to get a grip on what I'm doing if I don't want to become contaminated by it. If I want to avoid dashing towards that non-existent finishing line as if I was part of that hypothetical race too. And I have to ask myself the question – do people know there is no race, no finishing line and no prizes for getting there first?
I expect the question you're asking right now is what's this all got to do with education? Well, the reason I've described this scenario is because I see exactly the same race happening in education.
Just like me in the underground, it's easy to feel a certain amount of tension and anxiety if we are not all rushing along the same mainline route, towards the same result as everyone else. And not only that we also tend to feel very, very anxious if we're not doing it at precisely the same time as all the other children, if we don't get off the marks at the same age, reach those imaginary milestones at the same time, and cross that imaginary finishing line at the same stage of maturity.
Whenever I hear parents talk about their child's education, they talk about it exactly as if it were a race and a rush. Certain stages must be gained by a certain time. And if that doesn't happen, like me in the underground, the child will be 'left behind'. In schools this feeling is very real. Heavily unpleasant.
But it doesn't have to be like that. And actually – there is no 'left behind'. You can achieve anything at any time you want to. And many have.
Education isn't a race. You don't have to achieve in certain time frames. You can actually never stop with education – you can take it as far as you want to, when you want to.
There is no point in rushing children along when they're clearly not ready, developmentally, to achieve something. Nothing dire will happen to them if they don't all do the same things at the same time or reach them in the same way.
Another important point to remember is that there is no finishing line and there are no prizes for getting there first, wherever 'there' may be. There is nothing to be missed out on and the feeling that there maybe is simply that; a feeling, not reality. Just like my feeling in the underground.
You have the choice to plan an education that suits your child's readiness, which will be far more successful than one you'd pushed them through at an unsuitable pace to 'keep up'. You don't have to pay too much attention to what everyone else is doing. The race everyone else is in needn't concern you. Your child's own particular needs do.
Racing and rushing has nothing to do with education. In fact spending more time usually gains an education of far more quality and meaning than one that has been rushed through in attempts to meet other people's deadlines that have no personal value to your child.
That is probably part of the reason that we chose to Home Educate. Because we didn't want our children stressed by the thought that it was a race to get somewhere, or to have them feel stressed if they didn't keep to a particular time.
Time is something we wanted to give them. Time to pay attention to quality and depth of experience rather than experience education as something which, as it rushes on, they must keep up with.
It's best not to let the sight of others racing to this imaginary finishing line in a mad lemming-like way distract you from what you believe is right for your children. If rushing and racing isn't right for you – don't get caught up in it.
Just like the folks in the underground, mainstream education can seem a bit lemming-like. I watch families racing towards the eighteen year old bench mark worrying themselves sick about when they'll have to toss themselves off the educational precipice. And I think to myself – do they know there's another way? Do they know that education actually doesn't have to be rushed, have a time-limit, or a precipice?
Home Education provides the opportunity to give children a different educational experience that is not a race. Keep focussed on the way you want to do it; on your children, not mainstream children or systemised education, and move along at a pace that suits your family where they can fully appreciate the quality and depth of it. Many home educated children I know have achieved what they wanted to achieve, whether qualifications, businesses or work, without sticking to the mainline route or the mainstream timing.
And they did this because they understood that whether in the underground, or in life, even without rushing you will all get where you want to go in the end.
Taken from 'A Home Education Notebook to encourage and inspire' For more details see the My Books page.